Hi, I'm Calum, an Operating Department Practitioner from Birmingham, U.K., and have been working as an Anaesthetic Technician in Auckland, NZ, since May 2019.
I used Accent Health Recruitment Agency to get the job, and they were great with advising on all things emigration. I came on a working holiday visa, however I have applied for a work to residency visa. I had never been to NZ before, but had a small bit of knowledge about the country, mainly through watching sport and reading travel books before I came out. The lifestyle is what appealed to me mainly, I love the outdoors, sport and a laid back life, all of these things I thought NZ could provide. Before I came out, I asked lots of questions to my work, the job recruitment company and people who I knew had been/were in NZ, doing the job I do or other jobs, so I would know what to expect.
The easiest part of the process was the visa application. It only took a day or so, but this was because of the visa I applied for, whereas the professional registration took a few weeks, just because of the amount of paperwork I had to complete. Once I had all my registration, I had an interview and job within 2 weeks.
The most difficult part was trying to fit my life into a suitcase! Initially, it was a settling in process for both work and private life. I started off in an Airbnb, and spent about 5 weeks looking for places to live that ticked all the boxes, which was a chore at times, then having to buy a bed and other room furnishings, reminding myself how annoying the flat pack making process can be. I'm glad I took my time though, it was important to me to find the right place, which I did; my flat is close to work, close to a beach, backs onto a nature reserve; meaning plenty of dog playing opportunities! Work was great with settling in, everyone was friendly and helpful, and the orientation process was a pretty smooth transition, despite going from working in a public hospital to a private one, as well as working in a different clinical setting, learning about different policies and cultural differences. I also bought a car, which helps massively for exploring and day to day activities! I've already done a few trips within NZ, including a weekend in Rotorua looking at all things geothermal; an amazing 5 day trip to Queenstown, in the South Island, for a skiing trip with some stunning scenery; along with sampling the local culture in the form of food and beverage. With spring arriving, and the weather starting to get better, I've done more day trips outside of Auckland, as well as having plenty of trips planned for the upcoming months to different parts of NZ and over to Australia.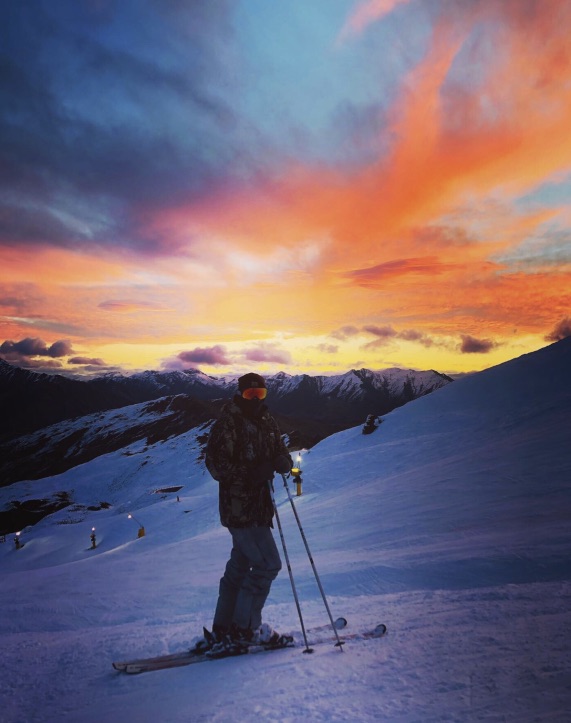 The biggest difference is that it's much more relaxed here, I live a 10 minute drive from the sea and beach, 20 minute drive from watching the best rugby team in the world, 40 minutes from rugged, stunning coastlines, an hour and a half flight from skiing/amazing nature. None of these were as possible/as easy, living in the midlands in the UK! Weather is much better than the UK, the winter was wet, very wet at times - resulting in a very green city. But, it's never that cold compared to the UK. This winter I didn't have to scrape frost off my car once, compared to before and after work in the UK. 
A typical work day for me is a 5 minute drive in, a 10/8 hour shift in a hospital, followed by the gym, cinema, going for food or a walk by the sea if the weather's nice. Weekend involves exploring Auckland city and its surrounding islands, driving out of the city for coastal/national park walks, trips within NZ, watching and going to sport events, socialising and enjoying the numerous ice cream shops! Nightlife is a lot quieter, it's more a pub/bar scene than clubs, which isn't a bad thing in my opinion. Leisure activities are a lot more plentiful and exciting over here! 
What I miss most about the U.K. is the curry, it's just different and subpar compared to home, particularly Birmingham! I also wish I'd brought a supply of pickled onion monster munch with me. On a more serious note, you're obviously also a reasonable distance from friends and family, but all the good things about living here balance that out easily!
My advice to anyone else considering making the move to NZ is just to do it! Plan for all eventualities and have contingency plans, along with some patience and resolve, as it can require some effort to become settled. Even if you plan to move only temporarily, it's great experience, a stunning country with a great culture; including a fascinating past and current Maori culture and ethos. It's so laid back and Kiwi's are very friendly. If you love the outdoors this is definitely the place for you!