I am Natalie and I am a physio from the UK. I  came to NZ in May 2018  The process to come to NZ took me around a year but this was due to taking my time putting together my NZ Physiotherapy Board application paperwork (you have to be very detailed and check things a lot!!). Once I had sent it off I was lucky to be granted registration within a month and was then able to apply for jobs and my visa which didn't take long at all.
The easiest part of the process was finding a job! Kristin at Accent was so amazing and helpful with every step of the way. Excellent communication and gave advice to help me prepare for my interview and helped with negotiations after I was offered a job. She helped with the transition providing a handy check list of things to consider and remember to do before leaving and once arriving in New Zealand. Which was so handy!
The most challenging part of the process was organising all the paperwork for my NZ Physiotherapy registration. It pays to take your time and do your research for this as they are very specific and strict, you can easily be declined (and not refunded) if it is incorrectly completed.
My first impressions of NZ were groceries are expensive!! (safe to say shopping for supplies when you have just landed and you're extremely sleep deprived isn't a great idea). But after a good nights sleep I woke up and took a stroll along the beach, inhaled the fresh air, felt the warmth of the sun, looked at the scenery and smiled from ear to ear. I had travelled to New Zealand before and already loved the country and the people, so I quickly felt at home in this beautiful place.
The best parts of NZ are Mount Maunganui. Ok I am probably biased when I say this but wow! I feel so lucky to be able to call this place my home. It really is stunning. It's also a great location to travel and see other parts of the north island. This country has it all, stunning beaches, clear blue seas, rivers, lakes, mountains, forests, volcanoes, natural thermal springs the list goes on and the best part is you don't have to travel far to find it. It's all around you and there's so much to do, see and explore.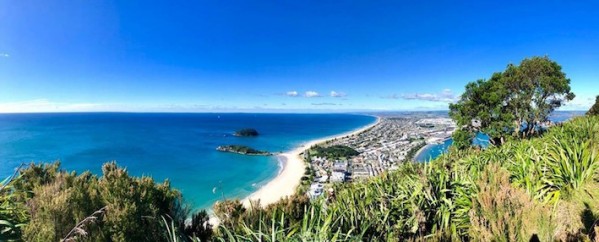 The people here are so friendly and always up for fun and the weather is great, even the winter is mild with plenty of sunny days. What I miss the most is My mums amazing roast potatoes and my friends and family. My advice if you are planning to come to NZ is to hurry up and get here, you won't regret it! Haha
Ok seriously. Be as organized as possible before you leave and make sure you have considered the cost of moving and setting up once you arrive. Get yourself a car as soon as possible when you arrive, unfortunately public transport is probably the worst part of NZ. Also NZ has some epic roads to travel on, so the sooner you can get yourself a set of reliable wheels the better. Awesome road trips and adventures here you come! Go easy on yourself for the first few months as it takes time to settle in to your new life, your job and to make friends and a new social network.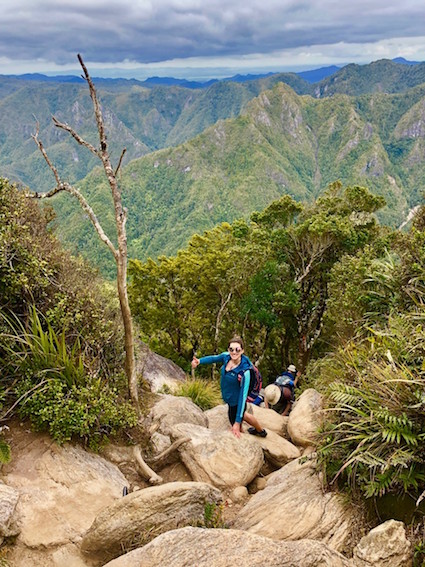 If you move here on your own and do not know anyone then my best bit of advice would be to start talking to people anywhere and everywhere. People are so friendly and welcoming. I randomly started talking to someone at the bus stop one morning on my way to work and now they are one of my closest friends here.
I'd like to say a massive thank you to Kristin for all of her help and support in finding me a job and giving me advice with relocating to NZ. She made the whole process a lot easier and it was so good to know she was on the other end of the phone or email if I had any questions. The little welcome parcel when I arrived in NZ was so thoughtful too and a lovely touch, it was so simple but it brought a huge smile to my face. Just what I needed after a long few days of travel.
Accent Health Recruitment is such a brilliant organisation and I couldn't speak any more highly you. I definitely recommend you to anyone who is looking to make the move to NZ.
Work Place Differences:
The different types of ACC contracts and the variety of work involved with them all is different to my previous role in the UK, but it essentially makes you use all aspects of Physiotherapy so it keeps you competent and allows you to continually develop your skills. Here in NZ there is a big emphasis on vocational rehabilitation, something that isn't huge in the UK. So a big part of my role as a Physio here is to tailor my patient's treatment and rehabilitation to ensure they can achieve functional, work specific tasks to enable them to return to their job. The type of patients I see are different too. In the UK I worked in the NHS so the most acute I got to see, if I was lucky, was an injury about 2-3 weeks old and they would have already seen a GP/specialist prior to myself. Here I see a lot of very acute patients, so my management and triage skills have developed greatly. Physio's here are able to refer directly toOrthopaedic Consultants and for X-ray and Ultrasounds without the need for GP approval, which is great! Thankfully Physio is Physio anywhere in the world and we all have the same bodies and get the same injuries and issues. The approach is the same, you still assess and treat the same so even if everything else around you is different just focus on what you know and you won't go wrong.