I came to NZ with my family in January 2017 from Essex, England.
The process to come to NZ took me around 12-13 months. The easiest part of the process was getting a job, Merryl was amazing and helped me get my CV New Zealand ready and getting used to Skype! She also helped me prep for interviews and understand the differences between the NZ and UK process (i.e. NZ employers want to know more about you as a person as well as your clinical skills).
The most challenging part of the process was the visa process. I have relocated with my husband and 3 children- so organising all the paperwork, medicals, renewing passports before sending them and the cost! I also found it challenging deciding on the right place to relocate to. New Zealand is known for being beautiful and can provide a brilliant lifestyle for all of us but we are Londoners at heart (born and bred) so needed some sort of city life nearby so the change wasn't such a huge shock as well as having that outdoors lifestyle and good schools for the children (not asking for much!!). That's where Merryl's local knowledge came in, she gave us practical information and lots of websites/ blogs to read through. We then used google maps to actually look at the roads and pictures of certain areas.
My first impressions of NZ were - "This place is beautiful! I can see us settling here".
The best parts of NZ are that it never gets too cold, the people really are that friendly and welcoming and you feel safe.
What I miss the most is the abundance of food choices and clothes stores! We are of African/Caribbean decent so we have to import hair products from the UK and some food products.
My advice if you are planning to come to NZ is - if you are coming with a partner and/or children be prepared for home sickness and your partner not finding a job as easily as you did unless they are in healthcare, IT, mechanics or teaching. It took my husband 5 months to find a job in his sector and it is a long term temporary position, not permanent as we would like. Also if you can secure a skilled migrant visa rather than a work to residents visa it will help your partner secure a job quicker as they don't like giving permanent positions without having some kind of security, totally understandable. We went for work to resident as it was quicker but we are now in the process of changing to a skilled migrant.
ACCENT stayed in touch with us for a long time after we got to NZ. That support and encouragement was invaluable and knowing that you have someone at the end of the phone or email if you're unsure about something - it made the world of difference. We also got the best welcome once we got to our Airbnb from Merryl and Accent. They had food shopping and two SIM cards delivered to us about half an hour after we got there! It was so thoughtful and we are still so very thankful.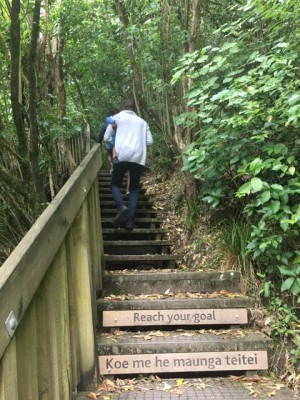 Questions about your new workplace:
Are there any major differences between your current role in NZ and your previous role in England -  In a word Yes. Working as a midwife within the NHS you become very used to certain processes and procedures- (i.e. NICE guidelines, greentop guidelines and trust guidelines) Most hospitals follow very similar things and if in doubt you follow best practice. I am yet to see anything like that here and in the DHB I work for there is a lot of private care/private obstetrics and they can decide what they want. It is something that I have struggled with to begin with but once I found my feet and gained the trust and respect of my colleagues I have been able to make small changes where possible.
Are there any similarities that have helped you orientate/transition easily? A midwife is a midwife, is a midwife! We all have that little bit of crazy and that support for each other. I love the team I work with they have really helped with the transition and are amazingly friendly.
Is there anything specifically done differently in NZ that has interested you and the way you practice your profession?  The LMC (lead maternity carer) model of care is unique to NZ and they build amazing relationships with the women and their families. It is something to definitely consider when coming over.