We are Radiographers or MRTs as they say in NZ.
I came to NZ on:  28/06/2018 from: Borneo via India and South East Asia.
The process to come to NZ took me: We secured a job within a week of signing up to Accent and over the next couple of months we liaised with Accent  to arrange our contracts and everything was set up and ready to go when we arrived in Hamilton.
The easiest part of the process was: Dealing with Prudence, Prudence had an ideal interview set up within days and she was delightful to correspond with and helped us out every step of the way.
The most challenging part of the process was: Filling out the paperwork for the MRTB, it was quite a drawn out process but our advice would be do as we did and do this at home before you set out travelling.
My first impressions of NZ were: After spending 7 months travelling throughout Asia and arriving in New Zealand's winter our first thoughts were – it's cold but the sun was shining and we explored the lovely Auckland and had brunch.
The best parts of NZ are: The landscape – the mountains, volcanoes, lakes and coastlines. The whole place is awesome.
What I miss the most is: We are very much missing watching the World Cup as it is on at awkward hours and Liv misses British Sunday dinners.
My advice if you are planning to come to NZ is: is be prepared for the seasons and make the most of them, ski in winter and surf in summer, get out there and explore all the wonderful and unique nature NZ has to offer.
Anything else you would like to say: Accent provided a great service and we would highly recommend using them, made our life easy whilst we travelled.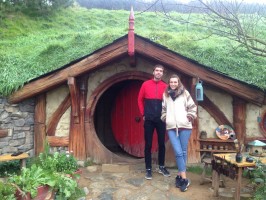 Questions about your new workplace:
Are there any major differences between your current role in NZ and your previous role in the UK? The role here in New Zealand is less hectic and busy than working in the NHS and there are more staff perks.
Are there any similarities that have helped you orientate/transition easily? The job is very similar to working in the UK however there are different protocols and procedures to get used to but the basics are still the same.
Is there anything specifically done differently in NZ that has interested you and the way you practice your profession? There is an odd piece of equipment called a Piggostatt that is used for taking paediatric chest x-rays, it seems very old fashioned but works well, give it a google as it is quite peculiar.