Hello - my name is Per. I am a general surgeon from Sweden with a special interest in colorectal surgery.
In January 2018 my family and I left Sweden and came to Invercargill where we spent one year. There were lots of paperwork before we left but ACCENT Health Recruitment guided me through and made the process a lot easier. I am sure it would not have been possible for us to come to New Zealand without the excellent help from Prudence and the rest of the AHR team. It has been an amazing year in so many ways and we think it is the best thing we have ever done as a family.
We first arrived to Christchurch where Prudence, from AHR, met us at the airport. She invited us for dinner and made us feel very welcome and safe. These first couple of days in Christchurch she also helped us to start up bank accounts, cellphones and interview with medical council. AHR kept in contact a long time after I started my work to make sure everything was alright which was very impressive. The help and support I have had from the AHR team has been extraordinarily good in all aspects from the first contact and all the way through the relocation process.
When we arrived to Invercargill the head of the surgical department met us at the airport together with his wife. They guided us to our temporary accommodation and invited us for lunch the day after. Our family were amazed about the hospitality and kindness we received in New Zealand.
I started my work as a consultant general surgeon at Southland Hospital, Invercargill. Southland Hospital serves a population of around 110 000 people. As a colorectal surgeon I did colorectal surgery but also biliary surgery, hernias and general abdominal surgery. I also had outpatient clinics, endoscopy and took part in the on call service with acute surgery. I had one week of introduction which felt sufficient. All colleagues and staff were very supportive and helpful so the transition to the New Zealand health system felt very smooth and fast. The hospital was great and provided high quality health care. The workload in New Zealand was less than I am used to in Sweden and I could finish work in time and go home to have dinner with my family. I also had scheduled time for administration and non clinical duties which was really good. This meant that I had more time together with my family in New Zealand than I have in Sweden.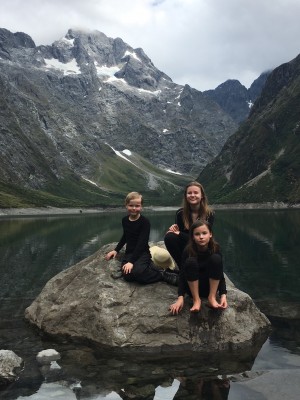 Our oldest girl was 13 years and our twins, a boy and a girl, were 10. They started public New Zealand schools which of course was very scary for them. Their english language was very limited before we came but they quickly learned. The schools were very good and supportive for international students and our children got on well and really enjoyed their school year with both friends and teachers.
My wife did not work and was beforehand a little bit worried that she would be socially isolated as a housewife in a new country without friends and family. However there were many other mothers with children that stayed at home or worked part time that she got to know and spent time with. There was also a wide variety of activities in sport, culture and music that you could take part in. She played tennis, did an art course, studied English and sang in a choir. She loved our year and made friends for life.
One of the best things about our year in New Zealand was that we had much more time together as a family than we usually have in Sweden. We spent many weekends enjoying and exploring the beautiful scenery of New Zealand in the mountains, forests and on the beach. We travelled around New Zealand and also did a trip to Australia and Fiji which are not to far away. This gave us many wonderful moments that we will always remember.
The thing that we miss most from New Zealand however is all the wonderful people we met. Many of them have become close friends and we are sure that we will keep in touch and visit each other. The Kiwis are very friendly, generous and welcoming. It is easy to thrive and feel at home in New Zealand.
We are all so grateful for our New Zealand experience and are sure that we some day will come back to the country and people that we love.